Ted Pepper Memorial 10k, 6th May 2019
The Plan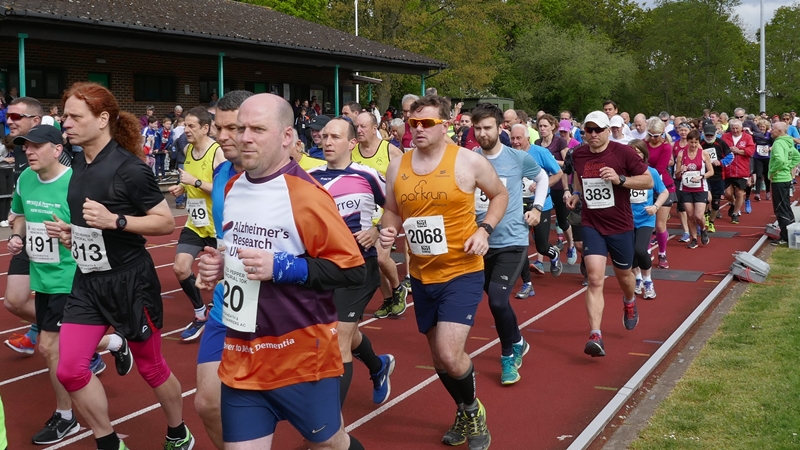 There was a plan, a schedule and a target for this race! I took it much more seriously than last year, partly because I have a decent block of running behind me but mostly because I'd entered the race so why not take it seriously and train specifically for it. A good performance at a spring race sets you up for the summer and gives focus during the cold months. The target was to get under 50 minutes, last year I'd clocked 58:50 but that was an unrepresentative time due to the high temperature on race day. I thought sub 50 minutes was closer to what I should have run but I had things to fix before I could achieve it. At Parkrun I tend to set off much too fast and blow up before the end so I had to learn how to correctly pace the opening kilometers and keep it steady, I knew I could run at 5 min/km pace but not consistently enough and I tend to run erratically, surging and pushing too hard which again means I blow up before the end of the race. I really needed to fix the fact I blow up before the end of races!
Ten kilometers isn't a long way and you can run it in training without worry of injury (not something you can do at marathon distance) and during the winter months I'd run several 10k runs at a slow pace, just covering the distance in whatever time and I ran on the publicly accessible sections of the Ted Pepper course to help learn the terrain. It's very slightly up hill on the way out, the section around the aid station (at the end of George Lane) is the steepest section, once you pass the cricket pitch at the half way point it's down hill all the way back other than the hill in Elmfield Park. This means you're likely to negative split the run (the second half faster than the first) just due to the course. If I got to the 5km point around 25 minutes I'd have a good change of getting under 50 minutes as long as I could hold that same pace. Just to be sure, I practiced increasing the speed for the last kilometer in training. I did lots of short runs of three kilometers, the first km is a jog warm up the second was aiming for 5 min/km pace and the last was a high speed sustained pace (not sprinting but as fast a pace as I could hold for 1km). In my mind, this was my insurance for the race. If I could get back 30 seconds in the last kilometer then I didn't have to worry too much about sticking exactly (or less than) 5 min/km pace.
The Race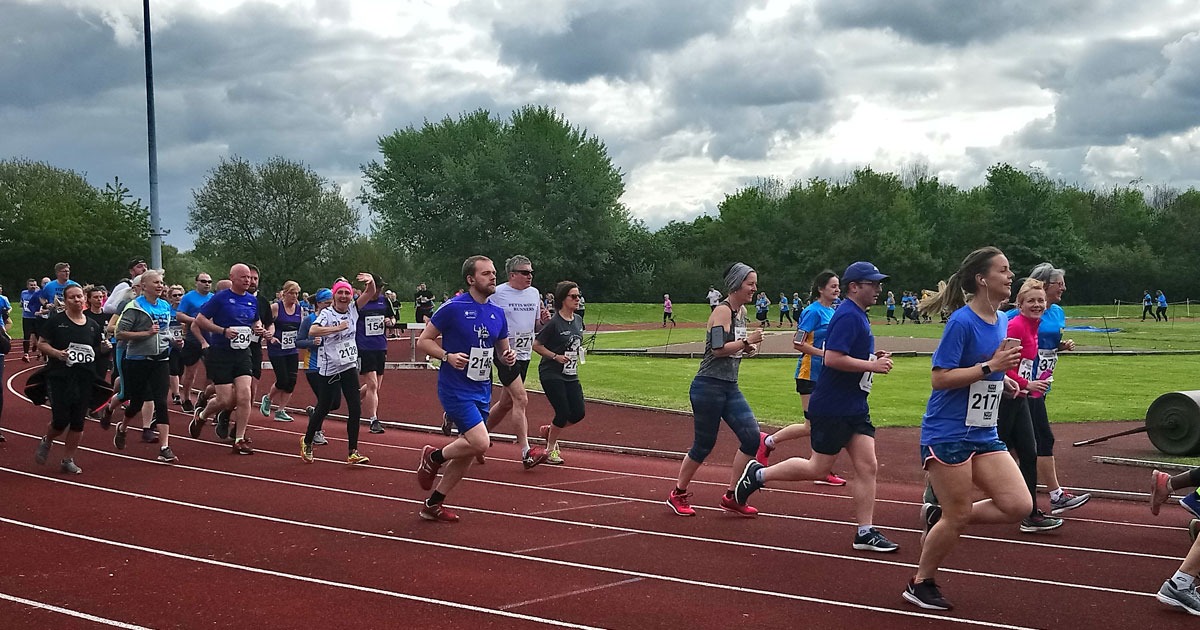 Weather on race day was almost perfect, a cool 10°C with some cloud cover and no wind. The ground was dry and hard so no mud to contend with. I tried to stay out of the way before the race and not get too excited. I had a strong coffee two hours before the start, a jam sandwich with an hour to go and a big drink of water about 15 minutes before, I'd done this in training and knew it caused me no problems. I positioned myself in the mid pack and made sure nobody I knew was around me so I wouldn't have to talk to anyone and could concentrate. Race briefing was short and we started almost exactly at 10am.
I'd done a lot of work with Rate of Perceived Effort (RPE) in training, really listening to my body and grading the running effort to make sure I was holding a sensible pace and not starting too fast. Heart rate in training was around an average of 160bpm for 10km but you can't use heart rate at the start to grade your effort because you've only just begun and it tends to be low. I aimed for an RPE of six or seven, nice and calm. Once around the running track and out into Norman Park my pace felt good, nice and steady but not pushing on, I didn't bother to check heart rate because it was still really early. The first kilometer comes up around the river in the middle of the park and I clocked 5:05 and felt good but heart rate was quite high at 170bpm. But because I felt good, breathing was good and I graded the effort (out of 10) at a five or six I decided to ignore heart rate for the moment. Only five seconds down on target was a good start to the race. The second kilometer is still in Norman Park and my watch bleeped 4:53, the third kilometer is just as you enter Hayes Farm and that was 4:59. Everything still felt really good but heart rate still high. I switched the heart rate display off and ignored it from then on. Adding up time seems to be a good way of distracting your mind because I don't remember much about the next sections, the aid station went by and I didn't stop, past Hayes School without issue (that's where I started walking last year) and down toward the cricket ground. At 5km I'd clocked 25:06 which was a lot better than I'd hoped for and still, everything felt good.
I'd scheduled in a section of the course to pull back a fraction and recover and that was at the start of kilometer six, on the huge field past the cricket ground. It's the first section that's down hill so I deliberately backed off to regain some energy and calm things down. I wasn't feeling tired or anxious but I backed off a bit anyway. Clocked 4:53 for that kilometer so I hadn't slowed down at all! Nothing was really making any sense so I just ran on. Going back up the farm path towards Elmfield Park things started to get a bit gnarly, slight feeling of being light headed and breathing a bit heavier and now I can check the race on Strava, my heart rate was up to 180bpm so it's not a surprise it was getting difficult.
I was within three kilometers of the end and I'd done so many 3km runs I figured I'd just do what I've been doing in those, jog out the first one, speed up for the second and full out for the third. Going up the hill in Elmfield Park was a bit of a problem because there was really only one track through the grass and I got held up very slightly, that was probably a good thing, saving some energy for the end. Back into the park and it's a case of pushing on as hard as you can, the finish line seems so close but it's still a mile away. A downhill mile but still a long way. Into the track and across the line I clocked 4:34 for the final kilometer so my training really worked, fastest kilometer of the run (with heart rate hitting my maximum of 190bpm as I crossed the line).
Summary
Final chip time was 48:56, mission accomplished by a long way. First 5k was 25:06, second was 23:50. I've done Parkrun's slower than that, I don't know how I managed it. It was very uneventful, nothing actually happened. It was just running at a constant pace, speeding up for the end. It's probably my best run race ever.
More pictures here: Blackheath and Bromley.
Full results here: Nice Work.